Week 7 - Monday, July 29, 2002 - Sunday, August 4

| | | |
| --- | --- | --- |
| | | Washington · Idaho · Montana |
| | | Montana · Wyoming |
| | | Wyoming |
| | | Wyoming · South Dakota |
| | | South Dakota · Minnesota |
| | | Wisconsin |
| | | Michigan · Ontario |
| | | New York |
| | | Vermont · New Hampshire · Maine · Massachusetts |

[ Week 7 Photo Album ] [ Back to Home Page ]

Week 7
Another great week of riding. I just can't believe it. It still seems like a dream. We no longer really think about the riding - we just go out and do it, and fun while doing it. no longer stressing. It's nice. We're in the zone. In fact, I really don't even look at the route sheets anymore. The legs feel pretty strong, the body good. I'm beat, yea, and still fatigued. But, I know, there are no major climbs, and it's only miles. If it's windy, we'll do a paceline. We'll make it, and we'll have fun. There's a quiet sense of confidence. There's nothing they'll throw at us that we can't do. I've spent more time going out, more time cheating sleep. I know I can now ride 90 miles deprived of sleep. (Sure, I can probably ride them faster if I get more sleep) we're beginning to perfect our stops, and there's been lots to stop at.
Unfortunately, though, all good things must come to an end, as this summer will do in 2 weeks. and this week really has seemed like a transition week. Conversations have shifted. . they've gone to discussions about what it'll be like to pull into Gloucester, what we're going to do when we go back, to reunions, and to next fall's Provence trip that some of us are planning. The week was capped with a wonderful evening last night with Jim, Lauri and Brian . . . sharing moments that we particularly enjoyed, or were especially challenging, and/or moments that were special. We also talked about life's lessons that we've learned, or were refreshed, for us this summer. A very special evening.
Tomorrow we re-enter the states, and it's the final 2 weeks. Time to cherish each moment. At least we know to do so.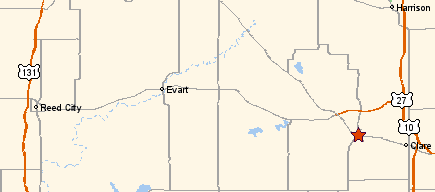 Day 44: July 29, 2002 Scottville, MI to Farwell, MI; 96 miles; TOTAL: 3021 miles
STATS: 96 miles; another flat (4th); rain, rain, and more rain; passed 3000 mile mark (turning corner - yahoos!)!! best ice cream of the summer - Scotts, outside of Farwell
No thunderstorms last night. . . but I slept through my alarm again (4th straight time). I guess with sleeping away from the Penske, waking at 5:45, particularly with losing an hour's sleep, is becoming challenging. Nonetheless, I got ready in record time, choked down breakfast (needed it, as I went to bed hungry last night)(thank goodness for my years of 20 minute lunches as a teacher), only to learn that, at our regular 7:00 am starting time, it had started to rain.. We waited a bit, and then realized that we wouldn't melt in the rain, and, given the 90 mile day, needed to get going. Oops, 3 _ miles out, I sprung a flat. Thankfully, the tire irons Bob Shwinn gave me in DuBois, WY did the trick, and off I went. Jim and Brian were great at helping - they jumped right in to change my tire. Nope, chivalry isn't dead, and I can accept it! J Perhaps it had something to do with the fact that they were going to have to wait until the tire was changed anyway, so they may have decided that they could impact the 'wait time' so they would. (just kidding)
For some reason, though, today, for the first time since day 3 in WY in the third week of this trip, I had motivation problems. I just couldn't get into riding. Don't know if it was the rain, the grit (we had sand everywhere - bike, gloves, shorts - it had infiltrated us), the relatively boring scenery, the obnoxious Michigan drivers, the fact that my bike computer went out, or what. Actually, the sand really was a pain in the ass, literally, as well as figuratively. In fact, I chose to ride the day without my gloves. And, probably what got to me was the fact that there was a lot of traffic, we had to ride single file, and we couldn't really talk. I've realized that I don't like riding in a group, if we can't talk, or can't hammer. I don't like the confined feeling, either on bikes, or at home.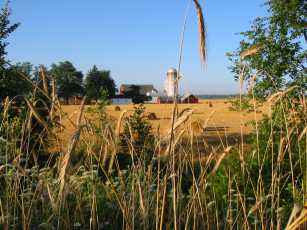 Pere Marquette Bike Trail

The morning remained pretty unremarkable; no real places to stop, though we did find a gas station to get a drink. I commented that I wanted a peanut and butter sandwich (I was fading), and, was asked by our crew whether I wanted that sandwich now, or at lunch. I said now, and of course, they responded, you can want all you'd like, doesn't mean you'll get it. huh..even on vacation ya can't get everything ya want. . .

In trying to keep with our being positive, we started thinking about the positives of riding in the rain - cleans your shoes, makes you appreciate head/crosswinds, ---------------. Hmmm, is this list worth finishing?

About 10 miles out from lunch I mentioned to lauri that I was having a challenging day, and just wasn't that into riding today. The first 'mental' day since day 2 of week 3. (I guess I should feel pretty lucky it's been a month since I haven't wanted to ride.) We talked about the fact that it was good that we didn't all have these moments at the same time - she was feeling good. And, in fact, we were on a road where we could talk and it seemed that these 10 miles started to fly by. At lunch at mile 56 I got some food in me, aka fuel, and it seemed to make all the difference. Life's lesson: don't forget to fuel up!

Met Vivian's sister and niece at the lunch spot. The afternoon seemed to go by pretty quickly. Turns out we found perhaps the best ice cream of the summer, particularly when you consider value, of the tour. Scotts, in Lake Michigan, (at a gas station) had a wide variety of flavors (hard ice cream), huge scoops, at an incredible price ($1.26/scoop). A single scoop was the size of 2, and the four of us each independently decided that Mackinaw Island was the flavor of the day (vanilla ice cream with chocolate covered peanuts and a chocolate swirl). Yum!

As far as scenery goes, the first part of the day should have been beautiful, but it really didn't seem that way to me. There were plenty of lakes, but the roads were kind of bumpy, with lots of debris, so I didn't get to look around as much. The afternoon brought us some rolling hills and farms, and seemed far prettier to me. Even though it was still raining, by I didn't seem to mind it nearly as much. We also saw some pretty neat wildlife today - wild turkeys, sand hill cranes, and 2 fawns - as well as beautiful wildflowers...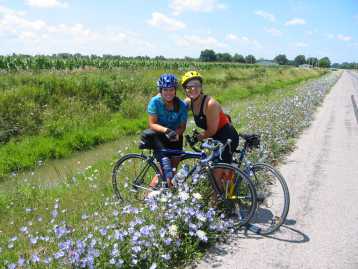 Erika and Vivian

Couple of things: decided that I couldn't ride all the way across the country without losing any weight. So, starting today, only one dessert a day. There was a discussion yesterday as to what qualifies as dessert - since I don't like crusts that much, I think that fruit pies don't count. However, despite Brian and Vivian's anything b/f 10:00 am doesn't count as a dessert, or anything eaten standing up or anything that's broken doesn't count either, I am passing on broken things (though taking sample bites) and did pass on the apple turnovers this am! We'll see how long this lasts, , , oh yea, peanut m&m's don't count either, so long as I'm riding b/c they're protein and sugar, aka fuel....

Didn't realize how reliant I became on my bike computer. I've been riding a lot this trip on cadence, and of course, it's fun to see your speed, and watch the miles add up. Having it dead really is a bummer. Equally as sad, is that I was at 9200 miles, and was looking forward to finding out whether it would go to 0, or to 10,000. total bummer. Turns out, though, that it's only a dead battery. Now I just need to find someone who can program it, or find a manual...

Also did my laundry this evening. Didn't do it on the day off, but had no issues getting it done when

I got to town. No more laundry on days off! it's alana's bday tonight, so I'm going to go join for some drinks. Tomorrow's another relatively long day, and I'm meeting my cousins, but, for some reason, by the end of today, for some reason, I'm feeling pretty strong. Huh, I won't ruin it with too many local brews.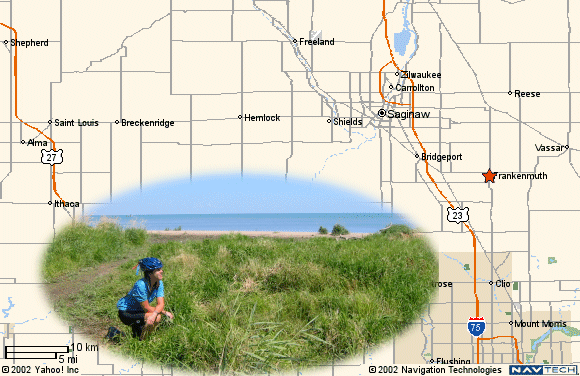 Day 45: July 30, 2002 Farwell, MI to Frankenmuth, MI 96 miles; TOTAL: 3117 miles
STATS: 2d great lake (lake huron); hot weather again
Great day for riding. Really sunny. Perhaps flattest day of the trip. 25 miles on the bike trail; which was really fun, and gorgeous. Lots and lots of wheat. Great stop for mid morning snack -- grilled cinnamon rolls. After coffee and cinnamon rolls, rode hard with brian, Vivian and joe for remainder of day. Rode fast. 24 miles an hour for a while. Pace line was great.
Great scenery in the afternoon - back to farms; lined with flowers (queen anne's lace and chickory (the blue stuff). Rode hard, sun hot, kind of tired, but finished feeling pretty good, though my ankle did start to bother me (it bothered me 2 days ago when I rode hard too). Lauri said she had a tough day this afternoon, kind of like mine yesterday. I'm just sorry I wasn't around to help her through, as she helped me through yesterday. It's funny when it hits us. No doubt that we'll make it, each of us, it's just nice, though, to help folks through it.
Frankenmuth - german tourist trap. Famous chicken at zhenders. It was good, but just how good can fried chicken be?
Arrived in town, had strohs ice cream (great stuff), and then some ostrich and buffalo sausage sticks and then some hefeweizen with robyn and skip. Needed to get back to camp to set up, and then get ready to see my cousins. Signs of regular life creeping into the summer - probably a good thing. They met me at dinner. Set up tent, showered, talked to josh (problem with glasses) as well as performance bicycle. Colleen my college roomie called, and it was good to touch base with her. Got together with jack, gigi, Jennifer and Rachel. Checked out world's largest Christmas store (cruddy bike ornaments) and then went

to beer house for a great beer, and Shirley temples. Showed these guys around. It was neat to share with my aunt, and my cousins, what my life's been like for the last 7 weeks. Reading it provides some clues, but seeing the camp, and the tents, and the gym, begins to bring it home. . . and helps me to appreciate it even more. Getting really sad that this journey is going to come to an end.
| | |
| --- | --- |
| Erika & her prized possession | Michigan Family |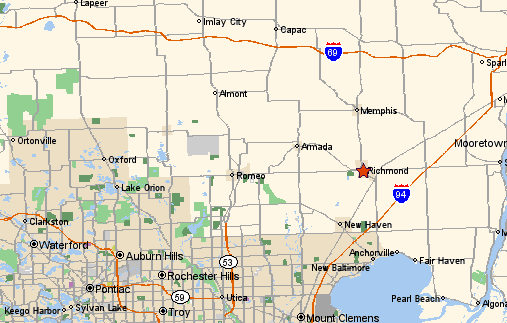 Day 46: July 31, 2002 Frankenmuth, MI to Richmond, MI; 90 miles; TOTAL: 3207 miles
Stats: best pie of the summer at Achtaz in Armada
Another great day of riding, and Vivian's and Joe's last day, despite my valiant efforts to get them to ride another day. We had fun. Fast pace lines. Also had a little competition. Debbie and Skip were up ahead. . . we were in a pace line, and gaining on them, not intentionally, just riding. They then really picked up the pace. Head down. . . we were going to catch them. Went by them at about 27 mph (yea, there were some tailwinds) and then Joe came up from behind to relieve me. I had nothing left. Fun stuff, Debbie jumped on, and we cruised into lunch. I'll miss Joe and Vivian, for their laughter and fun, as well as the pulls and speedwork. Joe said he finished the day with a 20.4 mpg average. I didn't ride the early am with him and Vivian, but nonetheless, we cruised!
Stopped in Armada, 7 miles from the end of the day, at Achtaz Handmade Pie Company. We've been talking about buying a pie, and getting a bunch of forks/spoons, and having everyone dive in. These guys have GREAT pie. Go! I tasted the Michigan 4 berry pie - blueberry, cherry, blackberry and raspberry. Not to sweet, crust about perfect (though I'm not a crust fan), and wonderful fruit, with perfect texture. Yum, yum, yum! We got the pie, some drinks from the convenience store, and went back to the pie place. Saw hard ice cream while we were getting the drinks. Folks decided that ice cream was needed. And, yes, off we went to the ice cream store with pie in hand. Oh, what fun! Vivian got the butter pecan and vanilla, and I was hankering for some vanilla bean. The picture says all.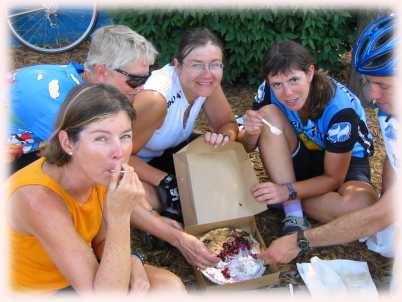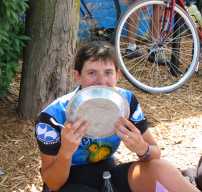 I spent the night trying to do some technology things. Unfortunately, the cd, for some reason, with the jpegs, isn't working. Also needed to reset my bike computer. I'm actually pretty proud of myself - figured it out, and did it myself. Brian tried to find some wine, but couldn't. it's amazing - he came back saying - isn't wine supposed to get better as it ages? Well, though about buying some dust covered md 20, or rijunite (sp?) but wasn't certain we'd like vino that is that good! we did, though, end up going to Chaps. I had said I was going to be in bed by 9:30. lots of folks at Chaps and I had a ton of fun talking with Nancy and Madeline. While the two of them, and Kendra, were unsuccessful in convincing me to get a tattoo, we did decide that we were going to dye our hair purple one evening. . . It was Ben's bday, so lots of staff was there too. I got them a pitcher - a very small token of thanks for all the

great work they're doing. I didn't drink much - very thirsty - and the diet rootbeer was good. Turns out that our leaving at 10:30 was an early evening; many, including Alec and Kendra, didn't leave until after 2.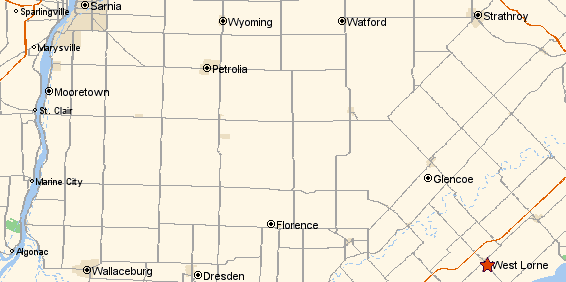 Day 47: August 1, 2002 Richmond, MI to West Lorne, Ontario (Canadia, as we affectionally refer to it); 82 miles; TOTAL: 3289 miles
Stats: HOT and muggy!!
Quotes of the day: Life is good, when you can notice the color of the squirrels, and have time to talk about it. (Lauri, in response to my chuckle as she and Jim were talking about the black squirrel in the Marine City café parking lot before boarding the ferry to Canada.)
John, the janitor at the school: It's so hot that the dogs are calling the fire hydrants. (After the heat in South Dakota and Western Minnesota, a little exaggerated.)
Rode the first 20 miles to Marine City and the ferry crossing to Canada. More farmlands, and pretty flat. Stopped at a café for a coke - was already getting hot. Beautiful river, I believe it was the St. Claire - a blue almost like some places I've seen in the South Pacific. Would've been fun to hang out a tad longer. Spoke quickly to my dad - trying to locate the eastern and central maps. Ferry ride was fun - leaning over the back end of it gave a weird perspective.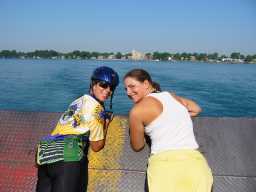 Ferry ride to Canada



Arriving in Canada was a non-issue, despite the constant reminder to bring ID, not have contraband (eg., dog spray, alcohol, firearms, etc) with us. Took the obligatory pictures.

Found a bike at a café across the border that I thought about getting to finish off the journey (ya know, the exchange rate is favorable -- $1.55 or so), but it was locked up at the café. The 'gang' rode along the river, enjoying the views and chatting away, for awhile, and came to a construction zone. Jim asked the flag guy whether a bunch of cyclists had come through. He looked puzzled and said

no. Uh oh. Come to think of it, we hadn't come across any arrows recently. Ooops, we missed the turn onto Bentpath Road. Turns out we went 8 miles out of the way. Guess we kind of knew it, but were really enjoying the ride, and the scenery. . . Oh well. Also mentioned that on some days, this would have been a major bummer, but, today, with the weather (at least at that point), how we were feeling, and the terrain, spirits remained high. I actually really havne't looked at a cue sheet in days. I know that there's nothing they can throw at us that we can't handle. Just follow the 'yellow brick' road...

We were among the last to arrive at lunch, at the Oakdale Town Hall. There was one pie left - and mary was handing out pieces. Yummy!! This one, from the Achtaz pie shop, was Bumbleberry ((apples, strawberries, rhubarb, blueberries and raspberries), and I, of course, couldn't (just couldn't) shy away from the piece. I did, though, manage to give my crust to Mary. Despite dessert first, I probably didn't eat quite enough, given the fact that I started to bonk in the afternoon.

Afternoon's ride was pretty unremarkable, other than the heat really beginning to turn up. The road was flat, with a couple of hills, and incredibly straight. Brain and I did jam for a bit, but neither of us had much energy. We did stop for sodas, or pops, as they're called in this section of the world, in Newberry.

One very interesting observation: at this point in the trip, while people are still amazed at where we're going (Boston), they're really amazed at where we've come from. Yep, we're getting down to the end. It's also interesting to observe folks, including me, start to focus on 'post-trip' stuff. Common question: what are you doing after the trip? Lots of folks doing some heavy thinking. After all, how can 7 weeks on your bike, with amazing people, in an amazing country, not give you time for thinking, and evaluating- life? I can't imagine how sad and bittersweet this will be. The coast to coasters, and it's all of us with the exception of maybe 4 other riders (though lots more joining in Niagra Falls and Lake Placid) are slowing down, talking to each other more, trying to savor the moments. Even though there are 2 _ weeks still left (a longer vacation than normal - that's the only solace right now), we know that the last 2 weeks will be different since there will be lots more people (folks joining for a week or 2). I don't know a single person who's looking forward to this being over. I'm sure not. We plan to ask Rich about some grief counseling - we'll need it. I've decided not to blow off the rest day to visit Geneseo, my college town. I desperately want to go, and catch up with a couple of professors and friends I haven't seen in years. I'm going to try and go when we're in Albion. I'm not certain of the exact route; but driving a car cross border a couple of times, on the day off, and a couple an hour, each way, journey, I think, is a bit much. Mostly, though, I'm not interested in leaving the group-I want to enjoy the limited time we have left. I will go back to Geneseo. I want to see the university, and the town; and, most importantly, a couple of friends, and Bill Edgar, a professor with whom I've recently been in touch, and who had a pretty major impact on my life. Hopefully it'll be this next week, but it might have to be on another trip. I want to savor the limited time here, that I have. Lauri and I also plan to get our crew together one evening to sit down and actually memorialize life's lessons that we've learned this summer. There are a lot of them, and it'll be a great exercise. Most important lesson, for me, though, is that it's about the people, and the people, in many ways, have made this trip. I could have done it alone - but the folks I've met along the way, and the friendships I've made, even if fleeting in the big picture of life (which I hope not, but realize that, despite the best intentions, could be the case), have made it fun; really fun. Invest, treasure, enjoy, respect, listen, keep an open mind, be patient, and have fun. No matter what. That, no matter what the condition, whether wonderful or adverse, or where we are, makes the good times great, the not so good times better, and the horrible times (though there really haven't been any on this trip) endurable. They're what makes life. (When I read this again, even when years from now, I'm making a commitment to call a friend to say hi.)

The ants (and flies) are eating me up, despite dousing myself in citronella oil. I guess they like sweat. (When I came in today the women's showers were too hot - given how hot I was, I decided to go downtown - went to the air conditioned library and the supermarket - both air conditioned) Currently, I'm in shorts and a sports bra - sweating, at 8:10 at night-sitting on my thermorest leaning up against the side of the school, gazing at the tents and the field. Rich just came by and said that the guy across the street is opening his pool, so long as we put up the steps when we're done. I'm going for a dip; time to cool off, and escape the ants. (As far as I know, ants can't swim)

(tomorrow, despite being told by locals that there's a 'cold' front coming through, we were told tonight, is supposed to be hotter. There are, though, 3 good ice cream stops (I'll have to chose just one), and a couple of good watering holes. Bringing the bathing suit.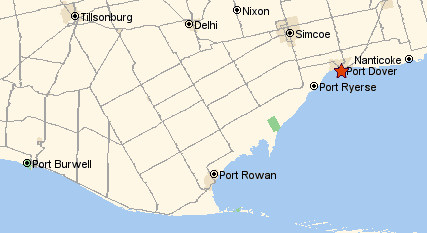 Day 48: August 2, 2002 West Lorne, Ontario to Port Dover, Ontario; 95 miles; TOTAL: 3384 miles

Stats: farming communities, lots of fruit, 3rd Great Lake (Lake Erie), on the road for 10 hours, but ride town 5 hours, 45 minutes (lots of play time!)

Lesson for the day: Hills are usually (emphasis) more intimidating than they usually are. When you're actually on them, rather than looking at them, they're not that bad. Kind of like life, eh? (get the eh? don't forget, we're in Canada folks)

Phenomenal day. No other words to describe it. Can't imagine having more fun. . . and, now, in the evening, I'm sitting on the shores of Lake Erie, at a patio restaurant/bar, music from the speakers, overlooking the sand and water, folks swimming in the lake, sipping a Canadian pale ale from Nova Scotia, with Brian, Lauri, Jim, Andy and Cindy (and now a large growing group). No bugs, perfect temperature. Just a perfect evening to top a perfect day.

We decided to try and leave at 7 sharp this am because we were told it was going to be even hotter than yesterday. Surprise, surprise. . . it wasn't. maybe a tad warm, but not too bad. Good tail wind, too. The day was a day for sightseeing. Absolutely.

Arrived in Port Stanley at mile 30 or so, and tried to find an open coffee shop. Was a cute town, along a river. Asked a guy who was setting up for what looked like an outside dinner where we might find a cup of coffee. He mentioned a coffee shop 5 km away, as well as one along the river, though he couldn't vouch for that one's coffee. 5km, on a 95 mile day, seemed a bit too far. The Bridge won out, and it was a great

place. Started with a couple of us, and by the time we were done, there had been 15 or so of us. Weather was great, sky blue, flowing river, and we even got to witness a sail boat go through the drawn draw bridge. I worked hard the first part of the am, and decided I didn't want to bonk like yesterday. Got a Canadian muffin (I think that's what they're called here, in the states, English muffins), and popped on some peanut butter (sweeter here), and, as I was just reminded, I licked the container. Needed the energy. . I rode hard this am. . . though my legs were toast, marshmallow, no question about it, I wanted to ride. Fun to chat with Kendra, and ride a bit with John. By lunch, at mile 57, I had an average of 18mph.

Lunch was on the banks of the Erie River. A nap could have been in order. Instead, wading in the Erie was in order. (ups - just told by Heather, our resident Ontarian, that the muffins are indeed English Muffins). A bunch of us were wading, while Josh, our resident tri, went for a swim, and Mark just decided, even in his clothes, to just jump in. as for me? Didn't want to bike in wet, or shall I say, wetter, and sandy, shorts. Stopped, after lunch, at the lighthouse - all wooden, built in 1874. The afternoon was made up of stop after stop. Let's see. . . the first, after the lighthouse, was a Popsicle stop, and caffeine for some, and bathroom and chammy butter for most. . . remember the discussion re the routing. . . decided to do the 'alt route' - had to portage (oops, we're on bikes, not canoes!) around a few fences and mounds of sand, and through swarms of some kind of bugs, but had a beautiful view of the lake. The road was closed due to erosion. Unfortunately, the closure didn't last for long, though we surely enjoyed the trafficless roads while they lasted!

Then came the asparagus field stop - we were able to find a few stalks that we picked and ate. Very sweet. Yum! But, mostly, they were the plants (harvest occurred in spring). We went back to see the folks picking the cukes (ah, headwinds, oh yea) - talked with a bunch of the kids picking, and they were all kids. They sit on the machines, pick by hand. Fields picked every other day. Depending upon size, they bring anywhere from $5 to $1000 a ton, with the smallers bringing in the top dollar. Young kids. Oldest must have only been in junior high school, with the youngest, a generous 7 or 8 year old, but others are thinking 6. there were some cukes on the ground that they weren't going to use. Made for good juggling material, and yummy eating!

Next stop, 10 or so miles away, was the waterfowl stop. For me, it was an excuse to assume my favorite position - lying on a picnic table, jersey unzipped, in the middle of a ride, using my helmet as a pillow (it works beautifully), in the shade, listening to the sounds of the outdoors. Ice cream, however, was calling (at least calling a couple of us, I could have stayed there for hours), so we needed to hit the road and get in another 15 or so miles. But, low and behold, a blueberry farm. Couldn't resist stopping - nothing would have prevented me. While there was u-pick, we decided we'd had enough exercise for the day, so we bought a pint. I had no concerns about finishing, though others did. The four of us inhaled them. And, sweet they were. . . high bush berries. Interestingly, the farm was run by a polish family from Krakow. Wonder whether the kids in the cuke fields we saw earlier were polish.

At the ice cream store, I decided I'd try to remain true to my commitment of a dessert a day, and since I had pie from Heather's aunt's farm at lunch (raspberry), but, without the crust, I had a _ a scoop of Bordeaux cherry, along with a fresh tomato. Yum!! Got to sit on the outdoor picnic tables. Life is good. We must have said that about 10 times today. Bill and Joanne came riding up; and, of course, they needed to stop. I just love Bill's sense of humor. . . and, without fail, he made me laugh again. (PIC) Brent and Heather also came riding up. Oh yea, and Mick came too. . . said he'd go back to the school to let folks know that we weren't lost. Yep, we're pretty good at bringing up the rear these days. At that point, it was just too hard not to have more ice cream; and, since we were going to be hanging out anyway. . . it didn't take much to twist Brian's arm to get some more ice cream. (If I don't order it, it doesn't count; right?) Ah,,,,classic chocolate and more cherry.) Finally left, and Brent, Heather, Brian and I went to ride the last 10 miles to camp. . . came across another blueberry stand, and couldn't resist. This time we bought a pint for home. (PIC) The roads had definitely changed from farmlands, to hilly woods (despite Mick's - it's all flat to camp). Yikes, the first hill after ice cream had our legs screaming,. . . . but, put the head down and pedal. We'll get there.

Crops seen today that I can identify: corn, wheat, tobacco, peaches, potatoes, tomatoes, onions, apples, green peppers, ginseng, soy beans, blueberries, cherry trees, asparagus, cucumbers. Crops that my riding companions saw (as did I), but can't identify: banana peppers, barley, onions, apples.

Dinner at church this evening. GREAT! And, now, watching the sun set over Lake Erie. . .reminds me of the ocean. Cool night. Life doesn't get much better. The pause button doesn't work, does it? We're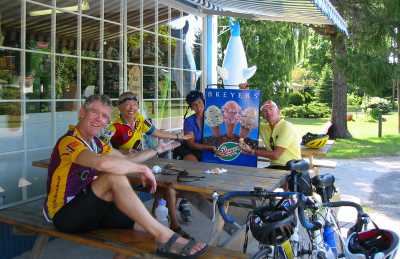 Need we say more?

all looking for ways to pause time. It's going too quickly. We steal hours from the night, but time just keeps marching on. . . It's the last night of the week, and tomorrow's the last riding day. I'm sure it'll feel really strange to re-enter the states, and upstate NY in particular. I spent 4 years of my life there, and almost stayed, until the lark of a move to Alaska beckoned me. Haven't been back since '89. I have the fondest of memories. There's a few folks I really want to see from my college days... don't know how I'm going to do it. we will ride close to Rochester, so hopefully I'll be able to see Kathy. And, I really want to try and see Geneseo and Bill Edgar. We'll see. They've changed the cities in which we're staying. . .need to get with lance to understand the routes.

Definitely a change in tenor of conversation amongst our coast to coasters - continues to progress. . . we've begun to reminisce about this trip. Folks joining now have to hear our stories. .. and stories we have. We still talk about the future, and the day, but it seems like we know each other really really well now. it's almost surreal. . . how does one go back to regular life from here? Someone asked, do you think that the Monday we're back, dealing with 'regular' life, we'll just collapse from tiredness? I know that I'm perpetually exhausted.. it'll be hard. Hard, too, to get the body used to, if we're lucky, only an hour's exercise for the day, rather than 5-7. will it be hard to sleep in a bed, versus a tent? A few days ago we figured out that we only spend 3-4 hours a day inside.. I know I'll miss the outside! I guess the challenge for us all, and definitely for me, will be to keep a portion of this trip

with me. The spirit, the freeness, the lightness, the patience, the open eyes, ears, and nose. And, life can't be too busy for people. It just can't. Our 'gang' has talked about scheduling some time to talk about the lessons we've learned this summer. That will be fun.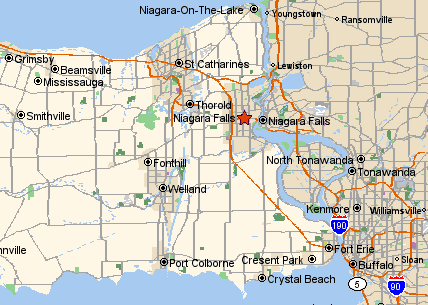 Day 49: August 3, 2002 Port Dover to Niagra Falls, ON 70 miles; TOTAL: 3454 miles

Stats: 2d ferry crossing; 3d great lake (Lake Erie)

Another day that's too fun to describe in words. It's almost like this much fun should be outlawed! We've been tagged Peleton Latte by Alan, and King of Stops by Lance. We were on our bikes for about 4 _ hours ride time, but out over 9 hours. Tons of laughter, and, now, of course, serious conversations.

Highlights of day: riding was fine - 70 miles didn't seem too hard at all. (This is true even given the fact that I stayed up late last night, and just couldn't resist a 10:00 pm order of chicken wings! Maddie and Kendra - what wonderful influences you are!) and, a wonderful, incredibly, civilized, dinner with Brian, Lauri and Jim. (Even wore 'regular' clothes)

Worked on consistent riding today, with consistent spinning effort. Rode the day with peleton latte, other than a sprint with Alan, who ended up trashing me. Two stops in the AM - lots of other folks joined. Swapped bikes with Albert for a bit - his is over 20 kilos, and a honest to goodness touring bike. Yea, he'll be rocking on his racing bike when he returns to Holland. Folks weren't certain I'd make it up the hill on his bike. . . despite not being able to sit, I did. It's definitely heavier, but the ride is smoother. I'd like to try some self contained riding.

At lunch I helped Marianne with her flightdeck, and got my hopes up that I could reset my odometer mileage -- turns out that I zeroed it out for nothing, but was able to reset it. . . I need the next model out to reset the mileage. Small ferry crossing, and then a stop for coke/beer/ice cream at Knuckleheads.

Had an interesting conversation with some Harley dudes. It's amazing how the bike breaks down barriers - I guess it allows me to be more open; and, I think, others to be more open to me. Never would have expected to have had a conversation about but butter (chamois cream for saddle sores) with Harley drivers. . . also talked with the woman who's running the b and b by the water stop. Hard to believe the words from my mouth when people ask where we've come from, and our response is Seattle, 3500 miles away.

Even Lance, the router, today, when we arrived in camp after 4ish, came up to me and said, "I saw you at lunch today." Where were y'all? You couldn't have found anywhere to stop, did you? Well, we did. . . In addition to being called Peleton Latte, Lance has dubbed us "King of Stops". Our goal is to spend as much time off the bike during the day, as we do on the bike!

Surprise on the tent! Remember that storm a week or so ago? Guess it must have weakened my tent pole... as, it busted. Oops. But, group effort, led by artist/engineer Brian. Tom has had the problem with 3 of his poles (how many does he have?), and lent Brian his leatherman. Jim happened to have a sleeve, I had my trusty swiss army knife, and brian, despite the hardware store being closed, found a pipe clamp (or something like that). The tent works. . .

Our gang decided we'd have a nice dinner. Jim and lauri were going to check at their hotel for a recommendation. My only request was - no buffet - actually, we wanted someplace quiet, with a wine list, and some good food. We got out our Sunday best (means no shorts and t shirts - though I still wore my tevas), and actually hailed a cab downtown for a wonderful dinner, with great conversation, at the Casa D'oro. Cocktails, vino, appetizers and a meal. Also tried ice wine. Conversation turned to life's lessons, and what we've learned along these 7 weeks. ( Don't forget to add 'pacing'.) also reminded me of the day in South Dakota into Pierre, when it was hot as we think hell may be, and Brian and I were getting to know each other and I asked him what his perfect dinner would be. . . . we both agreed it really wasn't about the food, necessarily, but the company and the ambiance. Tonight, we had it all.

After dinner went down to see the illuminized falls. Yikes! Even if we hadn't been in small towns all summer, the crowds still would have overwhelmed us. I am, though, certain, that we saw more people tonight, then we did, cumulatively, the week we spent in South Dakota and Wyoming. The best

way to describe what we saw, I think, is cotton-candy-ized tacky, America/Canada. So, so many people. It was almost gross. Actually, it was gross. The falls were lit up in colors....gads....

Day 50: August 4, 2002 Duff Day - Niagra Falls; 36 miles (huh, it's a rest day??); TOTAL: 3490 miles

Slept really well, though still not 8 hours. It cooled off significantly, and really was great sleeping weather. Not certain I'll be able to sleep in a bed again. After last night's cotton-candiazed tacky Niagra Falls, I wanted to avoid them as much as possible.

Talked with lance about the routes for the next couple of days, and made some calls about renting a car. Turns out I can rent a car in Albion. I think I'll leave really early tomorrow am, get to Albion as soon as I can, and then drive down to Geneseo to meet up with Bill, and see the campus. Will be a tiring day, but worth it.

Was told that Niagra on the Lake was only 10 miles away, and I was craving some 'green' time, as well as solitude. Haven't had much of that recently. Not that I'm stressed, it's just that I want some time to process. The 10 miles turned into 18 (one way - ouch, on a duff day), but it was pretty. Lots of greenery, park benches and picnic tables, and the Niagra River. Ambled my way down to town, and then walked around town. Bought some local preserves, breads, cheeses. . . Met up with a couple of folks from the Toronto Bike Club who are on a 3 day weekend ride (there's 200 of them)Š sat and discussed riding, skiing, etc. fun! It's so much fun to have the time to be able to have these kinds of conversations. And, yea, Loyd's friend was cute, too! Wonder whether I'll see him again?

Now hanging out in the botanical gardens. Took a little rest, on my purple sarong, as I munched on the strawberry/rhubarb preserves, bread, cheese, and fruit I purchased this afternoon (and, refreshed my bike's memory of having a latte in my water bottle carrier) Spent some time thinking and reflecting about the summer -- The different phases, what's made it great, what our challenges have been, and the lessons we've learned along the way, which really do translate into life's lessons. I have notes now, but perhaps when I return, I'll really memorialize them for me, as well as you. For me, though, the most important lesson, clearly, is that it's the people that make life worth living, make life fun, and make the tough times endurable, and even fun. And, no matter how hard something may seem, as Karen and I just discussed, there is something good that comes from each challenge, and it's important to

focus on, and be grateful for, those good things. Afterall, as bad as South Dakota was, I had a great time - this trip wouldn't have been the same without it, and, it's those times which cemented some relationships that I hope to have for a lifetime. I can look back and know that I would have made it through South Dakota alone, if that's what I chose to do - and, perhaps the sense of accomplishment would be greater. However, I know I wouldn't have had as much fun, and the laughter, and lightness would be missing, and the memories would be less than sweet. Peleton Latte, thanks for making it fun!

Gotta go - otherwise, the laundry man will be enjoying some bike clothes, and, I, well, not even the chamois butter will help. Ciao!

Just have to share this. I'm leaving early tomorrow (WHAT???) and mentioned it to Debbie. I want to get to Albion early, as I plan to rent a car and drive to my college hometown of Geneseo in the afternoon. A couple of folks heard that I was planning to leave early, and I was asked why. What's really kind of funny, though, is how quickly word traveled. Donna came up to me, within a few minutes of my conversation with Debbie, and said I heard you were joining Rick's chicks tomorrow. Huh, I

asked? And, then, Rick came out and said my application for Rick's chicks has been approved. Hmmm. Actually, it'll be fun to ride early in the morning. . . but, of course, I couldn't resist going out tonight with the gang - gotta spend that extra Canadian money.

[Top of page] [Week 8...]